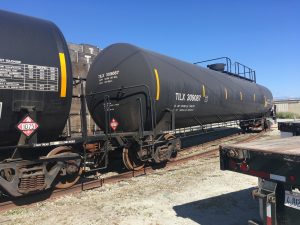 Jul 25, 2018 (via email)
Re: LPG Tank Car Storage Complaint
Mr. Becker,
Thank you bringing this issue to our attention! Unfortunately, there is no violation of 49 CFR 213.4 for the storage of more than five (5) LPG tank cars on excepted track located on the Santa Cruz Branch Line.
§213.4(e)(3) specifically states:
"No freight train shall be operated that contains more than five cars required to be placarded by the Hazardous Materials Regulations (49 CFR part 172);"
This citation applies specifically to train operations (car movement). Not the storage of cars on "excepted" track. This citation only restricts the movement of loaded placarded cars to five (5) or less in a train operating on excepted track.
In other words, an excepted track that can hold 100 cars is allowed to have 100 cars of placarded material stored on that track. However, when the cars are moved into or off of that track, no more than five (5) loaded placarded cars can be moved at a time.
If the placarded cars are classified as empty ("residue" in hazmat service), this restriction does not apply and the railroad is permitted to move more than five (5) placarded cars at a time.
On behalf of the FRA, I apologize for the delay in providing you a response to your previous complaints regarding this issue.
With this response, we consider this issue closed. However, if you have additional concerns regarding this issue, please feel free to contact me directly.
Sincerely,
Mark A. Maday
Staff Director
Hazardous Materials Division
Office of Technical Oversight
Federal Railroad Administration
1200 New Jersey Avenue, SE
Washington, DC 20590
O:202-493-0479
Email: mark.maday@dot.gov